A simple five phase plan for planning smarter power provision for events, shared by Tim Benson, Chair of Powerful Thinking and Energy & Environmental Consultant at ZAP Concepts & SMART Power: 
S….site design M….monitoring A….advancing R….reporting T….taking risks
Site Design
Consult your power contractor when designing your site to maximise opportunities for improvements in energy efficiency. Look to create power zones fed by generator farms, with smaller sync sets or hybrid systems for overnight base load management and, where possible, group together those suppliers that require 24 hour power. Where grid connections are available, look to use these for those areas of site that will be operational for the longest, for example production compounds, crew catering and site offices.
Monitoring
This must be discussed in the very earliest stages of planning and should be enshrined in the contract with your power supplier. Organisers need to identify specific areas of the site that they want to monitor and discuss with the power team the most suitable hardware for this. Moving forwards, the previous year's data should be used to set improvement targets for future iterations of the event and any lessons learned should be applied across the wider site.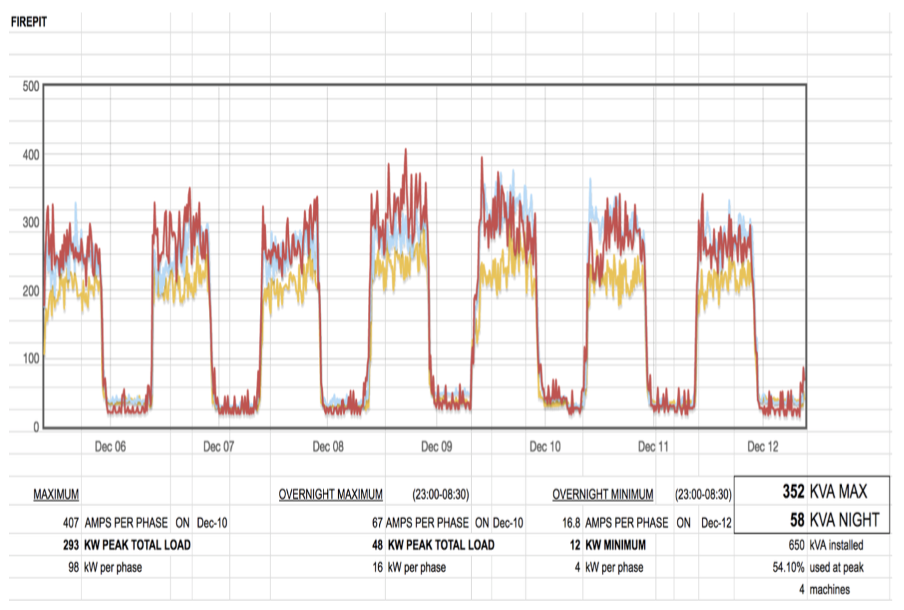 Advancing
Accurate power advancing is crucial if onsite generation is to be matched with actual consumption. Your power contractor should undertake a pre-event power audit of all electrical consumers by area, estimating likely peak demands, looking for trends in load profiles and exploring opportunities for the integration of renewables and energy storage systems (ESS).
Reporting
There's two key facets to reporting. The first is an analysis and explanation of the monitoring data which should be undertaken by the power contractor and presented to the organisers in a relevant and intelligible format; included here should be recommendations for ongoing improvements. The second, involves the organisers feeding back the monitoring findings to all key stakeholders, with a particular focus on the positives, for example reductions in fuel burn, emissions savings achieved and reductions in onsite generation capacity.
Risk Taking
As an industry, we have to change to limit the impact of live events on localised and global emissions (CO2, CO, NOx and PMs). Change always involves an element of risk, as it's a new way of doing something. Start your sustainability journey by trialling strategies in low-risk areas of your site. Ensure all your event stakeholders are on onside and that they understand their role in this journey. Choose suppliers and contractors that share your sustainability values and who can contribute in positive ways to your drive for greater energy efficiency and emissions reductions. Finally, be vocal about your successes and share with the wider industry the strategies that have worked for you.
---
This guest blog originally appeared in the July 2023 Vision: 2025 newsletter. Sign up to receive monthly event sustainability news, case studies and guest blogs direct to your inbox www.vision2025.org.uk