The new and updated Powerful Thinking Guide provides event professionals with up-to-date knowledge and practical resources to help manage temporary energy smartly, reducing environmental impacts and fuel bills. It is created from a collection of modular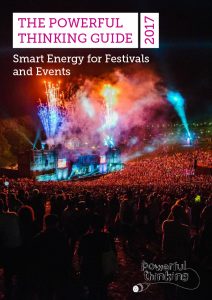 resources, factsheets and case studies that are also available online. This edition is European in focus, reflecting both the progress being made across Europe on this topic, and the partners involved with the guide's content.
 Since the first edition of the guide in 2012, a significant shift towards more efficient energy management has taken place in the events industry. Events are typically able to save between 10% and 50% of their fuel consumption and there are many examples that illustrate how and where this has been achieved in the new guide.
The guide has been co-written by a group of leading European energy consultants, advisers and festival organisers under the direction of lead author Chris Johnson, Chair of Powerful Thinking and Operations Director of Shambala Festival. Contributors include: Paul Schurink (ZAP Concepts), Chiara Badiali (Julie's Bicycle), Sid Rogerson (Entersys), Tim Benson (ZAP Concepts UK), Sjoerd Schouten (Watt-Now), Shaun Pearce (Production Services Association), Liz Warwick (Lansdowne Warwick).
Accompanying the guide is the Powerful Thinking Sustainable Supplier List: this free resource shows you which power suppliers can support events towards sustainable practices and lists their services. Find the list HERE.
SIGN UP to the Powerful Thinking newsletter for the latest energy efficiency tips, news and comments festival industry sustainability.
Smart Energy for Festivals and Events by Powerful Thinking is licensed under a Creative Commons Attribution-NonCommercial-ShareAlike 4.0 International License. Based on a work at http://www.powerful-thinking.org.uk/resources/powerful-thinking-guide-2017/